The Taxandria Museum
The Campine is an intriguing region and always has been. Visit the Taxandria Museum and immerse yourself in hundreds of years of history. The renovated museum building alone is worth a look, not to mention the remarkable garden.
Campine of yesteryear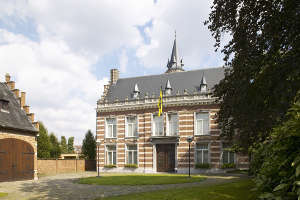 Thanks to a number of enthusiasts the Taxandria Museum acquired an exceptional collection of historical objects in 1903. It conjures up the days of falconry and lace. There are archaeological finds and beautiful antiques to admire in the historically furnished rooms. All set against the background of the rich lifestyle of Turnhout and the Campine.
Metten Thoren House
This historic, 16th century building mirrors the history of the Campine. Its recent, excellent renovation makes this reflection of the past all the more pleasing. The famous gardens complete the picture. This is the very place to pick up stories of a captivating past. The path takes you by relics of the ancient townscape.