Hocus Pocus Playing Card
Everyone loves the conjuring art, or at least most people do. Conjurers have walked the globe since antiquity, creating illusions. Their tactics are based on dexterity and clever tools. They deceive to their hearts' delight, yet the audience is happy to be pushed around.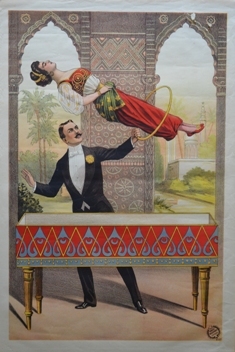 The popularity of conjuring was increasing considerably towards the end of the 18th century. As a result, the music hall was acknowledged as a cultural venue, next to the opera, the concert hall and the theatre. The halo of mystery surrounding conjuring artists appealed to everyone's imagination. Playing cards had already been commonplace in Europe for a few centuries and now made their entrance into the world of conjuring. The first book containing descriptions of magic tricks involving playing cards was published in 1634. Conjurers often came up with and designed their card tricks themselves, which is clearly visible in the tinkering work. As conjuring was becoming more and more popular, the need arose for ready-made tricks: a new and true industry was born in the 20th century.
Because of the two world wars, the conjuring art suffered a temporary setback. People were not going out as much and radio and cinema were introduced. The entertainment world had changed. Today, however, conjuring is as popular as ever. Numerous talent shows and online videos demonstrate this. Card tricks are still popular with conjuring artists and their audiences, also to serve less noble purposes. A skilled card cheater will admit to have developed their dexterity with the help from a conjurer!
'Hocus Pocus Playing Card' shows you the wonderful world of the conjurer using embossed objects, playing cards, photos, old posters and footage. Although not all secrets will be uncovered, you get the chance to learn and practise some tricks yourself to make the impossible happen!
An event organised by Archief & Musea Turnhout in collaboration with Gejus Van Diggele, playing card collector.
Hocus Pocus Playing Card
30 June 2018 - 31 January 2019