Taxandriamuseum
Hotel Taxandria
Don't pack your suitcases, yet! Hotel Taxandria is waiting for you, but it is not a real hotel, it is the recently refurnished 'Taxandria museum' in Turnhout. Every room is occupied by a typical citizen who is looking, in his special way, at the history of Turnhout, his town, in the Antwerp Kempen. They all tell their lively stories and show you the most interesting objects from the art collection.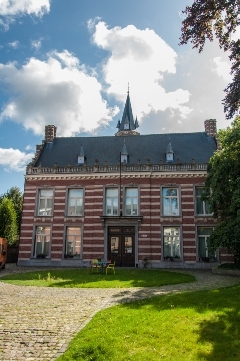 Here is the young girl from the local boardingschool who knows everything about the impact of the nearby Dutch border. Or, high up in his tower, the watchman who knows everything about military operations and clash of arms in a small town which had no walls to defend it. Now it is the lace-maker's turn. She will tell you about the success of the lace production in the 19th and 20th century. As a tourist you might have bought a piece of lace in Bruges. Well, perhaps it was made in Turnhout.
And here is the troubadour. Young people adore him, he is getting old and he needs some help from children.
If you have a wide interest in history, this is really the place to be! 'Hotel Taxandria' is the perfect startingpoint if you want to discover the town or region.
Huis metten Thoren
Taxandria museum is located in the 'Huis metten Thoren' (the house with the tower), an impressive 16th century building. Ladies and noblemen, in attendance to the dukes of Brabant, resided here when they came to Turnhout to hunt. And do not forget to visit the wonderful garden behind the house. It is the perfect place to have a drink!
Opening hours
Tuesday - Saturday: 2 – 5 pm / Sunday: 11 am – 5 pm
Closed on Mondays, December 25-31
Tickets
EUR 5 – concessions: EUR 3 – under 18: free
Combiticket to include the Playing Card Museum and Beguinage Museum: EUR 7,50
Guided tours: EUR 50 + EUR 5 expenses – 1,5 hours, available in English
Guided tours can be booked via the UiT-desk: +32 14 44 33 55 – gidsen@turnhout.be Every Tuesday in July and August, admission to the museum is free
Address