Activities
PRESSure in the museum
Our printers set the historic printing presses in motion twice each month. They demonstrate different printing methods and give attention to the overall finish of playing cards: the cutting, edging and shining process. To conclude the demonstration, they operate the gigantic 19th century steam engine.
The demonstration is in Dutch.
The programme is held on set days from 2 to 4 p.m. In 2019: January 10-27, February 7-24, March 7-31, April 11-28, May 9-26, June 6-30, July 4-11-18-25, August 1-8-15-22-29, September 5-29, October 10-27, November 7-24, December 5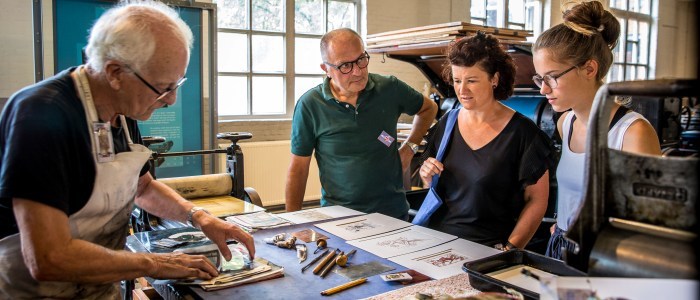 Bookbinding demonstrations
Demonstrations of manual bookbinding by the Turnhout Bookbinders Guild
March, 23 – April, 14 – May, 28 - June, 26 – July, 25 – August, 23
each time from 1 till 5 pm
Conference 'Association of Printing Museums'
Due to its 50th anniversary the annual conference is hosted by the Playing Card Museum. Subject of the conference is: 'Safeguarding intangible heritage. Passing on printing techniques to future generations'.
Programme and reservations
Art & Antique Day
Are you curious about the value of your grandfather's golden watch or of that painting you bought on a flea market? Bring it to the museum on Sunday, 2nd of June and let the value be estimated by experts!


Summer in the museum
Every Thursday of July and August the Playing Card Museum is accessible free of charge. Guided tours start at 2 pm and demonstrations of the playing card printing process take place between 2 and 4 pm (explanations in Dutch).